The judges' decisions are in and all scores from the mapmaking competition have been tallied. It was a close race, and all contestants should be proud of their effort.
I know everyone just wants to know who won, so I'll save the rest of my comments for the bottom of the post. Here are the winners:
1st Place – $100 ProFantasy Voucher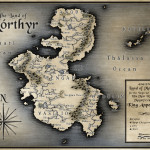 The Land of Mórthyr, by Warren Godone-Maresca
Here are some of the judges comments:
That's a beautiful map! I dig the way you've done the sea texture around the coast.
This is a very striking piece. Both textures and font-pick are great giving it a nice authentic look.
I like the consistency in the symbols used. They all contribute to an overall style that ties the piece together.
2nd Place – $50 ProFantasy Voucher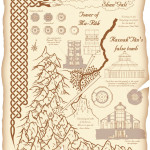 Lands of the Shan'Gali, by Joachim de Ravenbel
Here are some of the judges comments:
Very striking and original. I keep wanting to look at the cool mountains and not the buildings.
Very smart piece.
I love how it tells a story in itself. As usual, your cut-away maps blow you away with their detail.
3rd Place – $25 ProFantasy Voucher
Two participants came in a dead tie for 3rd place, so it looks like I get to pony up another $25 to make sure they both get the rewards they deserve.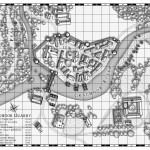 Gragmoor Quarry, by Nick Pelletier
Here are some of the judges comments:
Perfect example of a functional map, and it proves that maps without all the 'arty-stuff' can look great.
A good map that has everything I expect: organic looking village structure, legend, compass. Easy to read, good layout.
[I]t's a great map that clearly lays out an interesting location. I could pick this up and use this in a game with no trouble at all.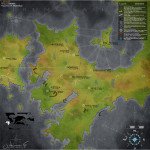 Lune Fi – Latoon Regional Map, by AkherQursan
Here are some of the judges comments:
Very stylish with a strategy video game look.
That's a wonderful map, with great typography.
I love the textures and color palette you used. Also the mapping elements you used are very refreshing giving it a real fantasy look.
Closing Comments
First of all, let me thank the judges for all their help. Not only were their cartography skills instrumental in scoring the contestants, but I believe they provided excellent feedback that will help the contestants improve their own skills.
As I said before, all the participants did a great job in this contest. The remaining contestants were not far behind the 3rd place winners. I hope you all enjoyed the competition and learned from the process and feedback, whether you ended up with a prize or not.
To the winners – I will send your voucher codes to you shortly, via the email you used to submit your map.
Thanks again to everyone one who judged, participated and even those who just observed. If you have any suggestions on how to improve for the next contest, please leave them in the comments below.