One day when I was a young'un, I visited the Orlando Public Library to check out some books for school. They had a small room with used books that they were selling for $1 each. I started combing through the bins and shelves to see if I could find anything interesting.
That's when I came across a teal, hardcover book – no jacket – with a squiggly 8-pointed star inside of a diamond engraved on the cover. The spine read, "The Silmarillion
, J.R.R. Tolkien." Other than the absence of a dust jacket, it was in near-perfect condition.
As I started to flip through the book, I noticed that the pages in the back seemed to have a gap between them. That gap, as I soon discovered, was a huge fold-out map of Beleriand – the ancient coast of northwestern Middle-Earth – before the land was sundered and engulfed by the sea at the end of the First Age.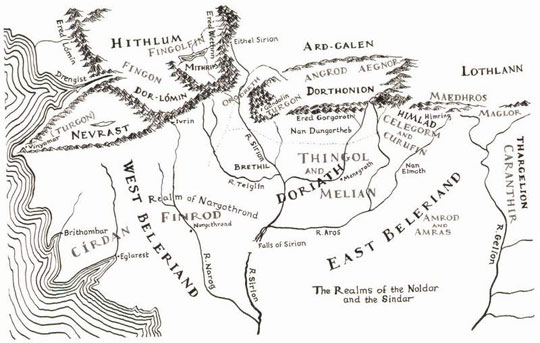 I was mesmerized.
Of course, I bought the book, and still have it to this day. Best buck I ever spent.
I still remember reading it for the first time, constantly flipping between story and appendices and map, immersed in the excitement of discovering a new world and new mythos. That was the day I fell in love with maps and realized the power they have to bring a story to life and to transport me to that other world.
It also made me want to create my own worlds, my own stories. And, naturally, maps were needed to help define those worlds. Lots of maps. Town layouts scribbled on notebook paper; battle maps and building schematics on graph paper; overland maps spread across 20 sheets of typing paper that occupied most of the floor space in my bedroom. Thanks to Tolkien, maps and fantasy played a key role in developing my imagination, which has brought me a lot of joy over the years.
So that's my story… What's yours? I'd really like to hear it, so I'm going to throw in a little incentive to help loosen the tongue.
How to Win a $25 ProFantasy Voucher
In the comments below, please tell me what is your favorite map, or a map that influenced you greatly. Also, share with me why you like it so much and/or how it influenced you. Feel free to link to the map if it exists somewhere on the Interwebs so we can all get a good look at it.
On December 24th, I'll pick one commenter and send him/her a $25 ProFantasy gift voucher that can be used toward the purchase of any ProFantasy products. It's that easy – just leave a comment for your chance to win.
Update

Thank you all for sharing your stories, I thoroughly enjoyed reading them.

I enjoyed them so much that I couldn't pick just one as the winner. So, in the spirit of gaming, I rolled the dice (well, virtual dice from my Gametable install).

And the Dice proclaim Anthony Toohey to be the winner.

Merry Christmas to you all, and happy mapping!